About the Album

I wrote one or two of these songs as far back as the early '80's. A few of them were rediscovered on my songwriting tapes and reworked or given lyrics. The rest were written more recently.
The initial sessions for the album took place at City of Light studios on the shores of Clear Lake in Lakeport, California, with me on guitars and vocals, Greg Ogden on electric bass guitar and Mark Thies on drums. It took us 4 days to get the basic tracks, which I then worked on in my own studio. I asked several guest musicians to contribute to the tracks, either recording them at my place or sending the tapes to them.

The musicians on "Old Road Gone" are:

Corry Hanna - vocals, electric, acoustic & steel guitar, keyboards, bass, harmonica, tablas, percussion
Greg Ogden - electric bass
Aaron Haggerty - drums
Mark Thies - drums
Qwango Saylaa - vocals
Kurt Kieffer - electric guitar
Spencer Brewer - Yamaha Grand piano
Paula Mulligan - viola and violin
Todd Sigmier - electric guitar, synth programming, sirens and whale noises
Lilia Albuquerque - vocal
Carol Hanna - vocal
Steve Fontano - percussion
"Highway" Bob Foy - handclaps
Jasper Sierra - handclaps
Randy Remote - handclaps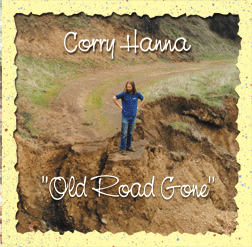 Corry Hanna - Old Road Gone $8.99 US

CD includes full color 8-page booklet.

Single speed mastered using JVC's K2

process for the best audio quality.


About the musicians:

Greg Ogden and I met in high school. He was the first person I had seen play a fretless bass, a Fender Jazz. He would go home at lunch and listen to Coltrane. He has also played double bass in orchestra, he's been in jazz groups and psychedelic bands.
Aaron Haggerty plays in several bands in Marin County, including Fact or Fiction? with his uncle, guitarist Terry Haggerty, and his dad, Tim.
Mark Thies moved to Northern California from Texas, where he drummed for various bands. He has been in a number of hot bands in Mendocino County, continues to gig regularly, composes, and runs a ProTools based studio.
Qwango Saylaa is not only a wonderful singer, she is a first rate songwriter. She plays guitar and piano, and is planning to put out a CD of her own, and we can't wait.
Kurt Kieffer was the first person I ever played live with-as part of a 7th grade Spanish class project-and he was the first person I had ever seen play lead guitar. How did he do that? We had a high school band called Caught In The Act with Michael Horne (of Palookaville). Kurt remains one of my favorite guitarists. He's also a damn good artist. He made a couple records with his band Expresso, has played with Robben Ford and many more. Moved from N. Cal to Texas.
Spencer Brewer is an established pianist with many albums and recording credits. It was great to meet and work with him, and to record in his Laughing Coyote studios in Redwood Valley.
Paula Mulligan has been in the top ranks of the California fiddle championships. As a music teacher she has been a tremendous asset to the Laytonville community. She enjoys playing viola in string quartet and orchestra.
Todd Sigmier is a man of many talents-besides being a great guitarist and singer, he is an outstanding artist. He has been a primetime DJ and he's even done voices for cartoons. He was part of the Remote Bros team, where he did many demented things, including a reggae version of the "Gilligan's Island Theme". Todd is a songwriter as well, and plays slide if you give him a chance.
Lilia Albuquerque is a poet, dancer, and radio DJ. Hailing from Rio de Janeiro, Brazil, she has a passion for music from all over the globe, and shares her musical journeys with those lucky enough to be within range of KZYX or KMFB FM. I was delighted to get her participation on "Sister Silk", which was in fact inspired by her radio show, "One Ocean".
Carol Hanna is my wife. She sings, plays flute, spins, knits, and raises Pomeranians. She is a great cook and an excellent astrologer. And she puts up with me!
Steve Fontano is a Grammy-winning engineer (Santana's Supernatural), a songwriter, and a first-rate guy.
"Highway" Bob Foy has been all over the country, logging millions of miles hitch-hiking. He was in the Remote Bros and plays a mean set of air drums.
Jasper Sierra is my son. He plays bass, guitar, sings, and writes his own music. He has been in various bands playing original skatepunk type music.
Randy Remote has produced novelty songs with names like "Campin' USA" and "Chuck Hurwitz Blues", as well as the above-mentioned "Gilligan's Island Theme", and sessions with The Ron Pardo Experience.

Thanks so much to each and every one of them for contributing their talents.
Produced and all songs written by Corry Hanna
Additional production by Steve Fontano and Keith Gaudette
Engineers were Keith Gaudette, Steve Fontano, Corry Hanna, Jason D'Ottavio, Tetsuya Otani, John Anaya, JBo Hopkins, Yanahay Hooper and Todd Sigmier
Mixed by Steve Fontano and Corry Hanna at Prairie Sun, Cotati, CA
Mastered by Evren Goknar at Capitol Mastering
Studios: Digitalis Solar, Laytonville, CA; City of Light, Lakeport, CA; Prairie Sun, Cotati, CA; Laughing Coyote, Ukiah, CA; Extrapolatory Mooncheese, Salida, CO
Technical stuff:

Recorded on black face ADATs, 24 track, and Ampex 24 track analog. Mixed to 1/2" analog through SSL 4000 series console. Monitored on Tannoy and TAD speakers. Mastered with Sonic Solutions.